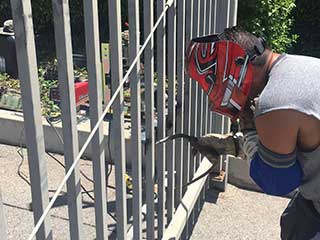 Even with regular maintenance, you may encounter unexpected failures from your driveway gates due to worn-down parts, accidents, or even from rot, rust and galvanic corrosion. When this happens, you'll need assistance from a technician with the relevant skill and experience to get things up and running again. Next time you need to have your gate repaired, contact one of our representatives to find out more about the services that we provide.
Keeping your Home Secure
When your gate gets damaged, it not only looks unsightly, but also punches an unwelcome hole into your home's security efforts. For this reason, you should never ignore a broken gate, not when the safety of your family and assets are at risk. Our team specializes in security gate repairs that are geared towards ensuring that your home is adequately protected. Contact us today for further details.
Automatic Gate Repairs
Whether you need to have your motor replaced or are looking for repairs for a broken driveway gate chain, our team has the skills and experience to ensure that your automated gates continue to live up to your expectations. Remember that automation is not only there to make accessibility easier, but also gives you greater control over your home's security, so let us assist you with making sure that it always works.
Seeing to Essential Components
Many of the smaller components associated with your gate will need repairs or replacements from time to time to keep your gate operating smoothly. This is why our team of technicians offer services related to wheel, track and hinge welding repairs. Contact us today for further information on our offers.
Contact Us for Details
Keeping your gate in order will give you greater control over the security and accessibility of your home, so don't let its condition undermine its benefits. Contact a consultant from Garage Door Repair Burbank today to learn more about our range of gate repair services. We are waiting for your call.
Give our team a call if you need help with: