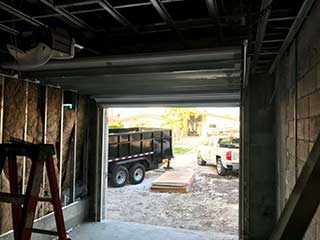 Saving money is at the top of every homeowner's list of priorities. While many people spend lots of time and money trying to make the rest of their home more energy efficient, few appreciate what an important role their garage door can play when it comes to this subject. We've helped hundreds of customers improve the energy efficiency of their home, saving them money on their electricity bills and helping them maintain a more pleasant and desirable indoor temperature.
Invest In Insulation
A garage needs to be insulated in order to maintain a comfortable indoor temperature. If you have an attached garage, it can also have an impact on the temperature of the rest of your house; a cold garage will cause heat transfer, and a hot one will make your air conditioning work harder over summer. Many overhead doors are made from steel or aluminum, neither of which provide any natural insulation, so it's important to install a thermal barrier that will allow them to gain this quality. There are three main types of insulation that are commonly used today; reflective foil, polystyrene foam and plastic or fiberglass panels. Each type is suited for different applications; reflective foil is cheap and light, but doesn't retain heat as well as polystyrene foam. Panel kits are a great way to retain the aesthetics of your door, and are easier to work with than polystyrene foam boards, but they can cost a lot more.
Seal Out The Weather
Weather-stripping is another important consideration for you to take. Good weather seals can keep wind, rain and snow out, as well as prevent unwanted pests from entering your garage. You should inspect the material (usually rubber) on a regular basis to make sure it's in a good condition. If you find any signs of damage, you need to get it replaced as soon as possible.
Performing Regular Maintenance
The harder your garage door has to work, the more power it consumes. Make sure it's running as smoothly as possible by lubricating the springs and rollers regularly. Not only does this keep power consumption to a minimum, it also extends the working life of your overhead door system by reducing wear and tear damage and allows some of the metal components resist rust and corrosion.
Cutting Back On Energy Costs
If you're trying to reduce your energy costs, our technicians can provide you with all the information you need. Contact Garage Door Repair Burbank today to find out how we can help you.